We made it onto OH MY VEGGIES list at #4 of picks for back-to-school snacks. You can read the full article below or click the link here.
17 healthy back-to-school foods your kids will actually eat
We always associate back-to-school with buying school supplies and clothes, but back-to-school also means restocking your pantry and fridge with healthy foods—and hoping your kids won't hate them. We've done a lot of research and taste-testing* and these are our picks for back-to-school breakfasts and snacks that your kids—and you!—will love.
healthy back-to-school breakfast foods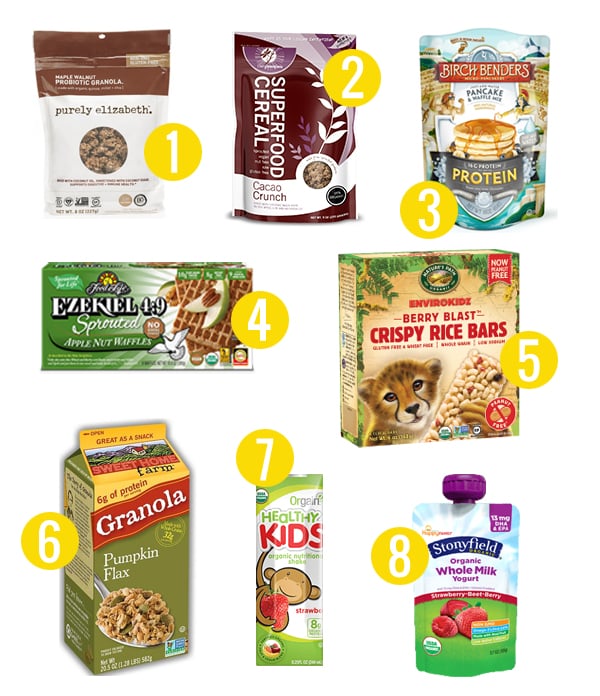 1. Purely Elizabeth Probiotic Granola // A healthy dose of vegan probiotics make this ancient grain granola even better for you.
2. Living Intentions Superfood Cereal // Forget those sugar-laden boxed cereals, these cereals contain a unique blend of superfoods and come in irresistible flavors like Cacao Crunch, Acai Blueberry and Radiant Raspberry.
4. Ezekiel Sprouted Waffles // Frozen waffles are usually pretty light on nutrition and substance, but these waffles will keep your kids full until lunch.
5. EnviroKidz Crispy Rice Bars // These bars are perfect for eating in the car when you're running late—not that you're ever running late, of course!
6. Sweet Home Farm Granola // We love the milk carton packaging of this granola, but we love the fact that it's made with non-GMO ingredients, no preservatives, and no artificial flavors and colors even more.
7. Orgain Healthy Kids Nutrition Shakes // Some kids just don't want to eat in the morning; these sippable shakes have all the nutrients they need to start the day.
8. Stonyfield Organic Whole Milk Yogurt Pouches // We're huge fans of these yogurt pouches because they're made with whole milk.
healthy back-to-school lunches & snacks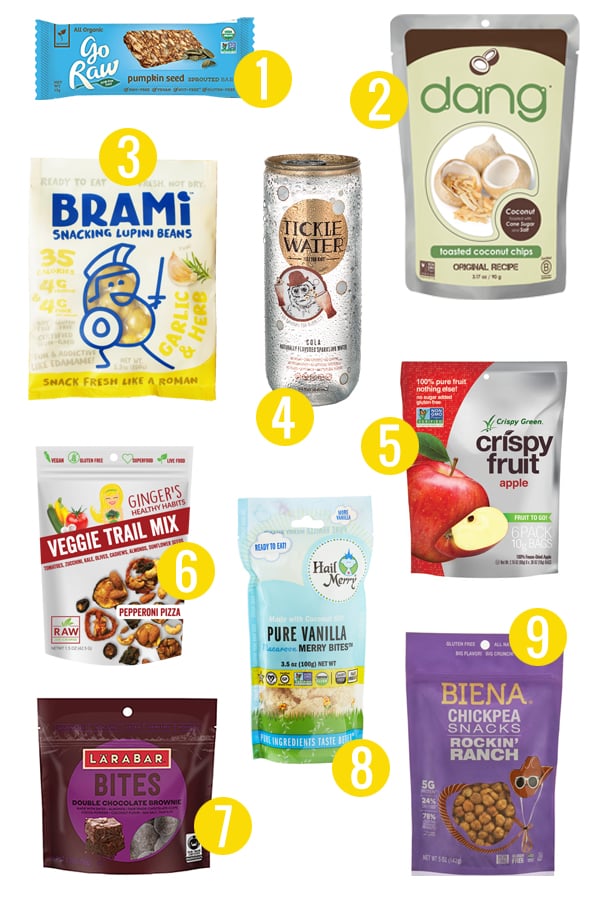 1. GoRaw Sprouted Bars // We love topping these raw sprouted seed bars with almond butter and slices of ripe pear as an alternative to PB&J.
2. Dang Toasted Coconut Chips // These chips are high in fiber, vitamins, and minerals—and their sweetness and crunch makes them a crowd-pleaser with the kids too.
3.
Brami Lupini Beans
// Never heard of lupini beans? They have the highest amount of protein per calorie of any plant, with more fiber per calorie than every plant except collards and berries. We love the Garlic & Herb flavor.
4. Tickle Water // Soda in a lunch is a no-no, but Tickle Water isn't soda—it's naturally-flavored sparkling water. No sugar! No preservatives or weird flavors! It's not neon orange! It's kind of a game-changer for kids drinks.
5. Crispy Fruit // Put an apple in your kids lunchbox and it'll probably still be in there when they get home from school. But Crispy Fruit won't come back home with them—it's perfectly crispy, all-natural freeze-dried fruit and kids love it.
6. Ginger's Healthy Habits Veggie Trail Mix // So many raw veggie snacks kind of taste the same, but we're a little bit obsessed with this one because it tastes like pepperoni pizza. And who doesn't love pizza?!
7. Larabar Bites // It's pretty hard to improve upon the original Larabar, but these bites do it. They're perfect for tucking into a bento lunch.
8. Hail Merry Bites // Every lunch needs a little something sweet and these bites are a treat you can feel good about—they're made with almond flour and coconut oil. The 2-bite packs are ideal for school lunches.
9. Biena Rockin' Ranch Chickpeas // These are even better than ranch chips because: crispy roasted chickpeas! They're dairy-free, non-GMO, and made without any artificial flavors or preservatives.
*We received samples of some of these items for editorial consideration.